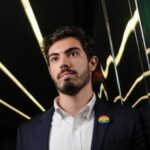 Vinicius is a senior underwriter working in Financial Lines insurance at AIG UK.
Prior to this Vinicius worked at AIG Brazil, having launched and led the local LGBTQ & Allies Employee Resource Group since 2015. Vinicius is also part of the AIG UK's LGBTQ&A ERG steering committee, STEP, with a special interest in supporting AIG to develop metrics and better procedures for talent recruitment and talent management.
He was also part of the steering committee and LGBTQ+ leader of idis Seguros (Instituto pela Diversidade e Inclusao no Setor de Seguros), a non-profit organisation focused on expanding the D&I agenda in the Brazilian insurance industry.
He graduated with a BSc in International Relations at Pontificia Universidade Catolica de Sao Paulo (PUC-S), with masters in Strategic Business Management at FIA-SP, both in Sao Paulo, Brazil.