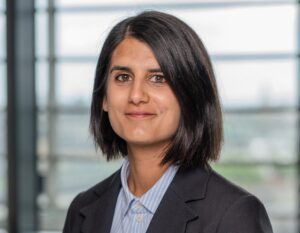 Amrita (she/her) is a cyber risk consultant in Deloitte's Risk Advisory practice. She has worked across industries with financial services, technology, and consumer clients to grow their businesses sustainably in a complex cyber threat landscape.
Amrita firmly believes that diversity of all kinds makes businesses more successful, more interesting, and more effective at getting the best out of their talent. In a professional setting, Amrita has championed LGBTQ+ inclusion; speaking on panels, developing better governance, mentoring LGBTQ+ and people of colour, and designing gender neutral toilets.
Outside work, Amrita's passion is joining the dots of the audaciously creative LGBTQ+ community. She has organised queer techno parties, a sober dinner club for LGBTQ+ people of colour, a satirical radio show and the genre-bending Red Bull Vogue Ball. Aside from community and good electronic music, Amrita's other love is cycling. She is proud to spend her weekends riding with Velociposse CC, a cycling club for women, trans and non-binary people.