Tuesday 20th September, from 18:00
Deloitte, 2 New Street Square, London, England, EC4A 3BZ
As the mentoring relaunch is a cause for celebration, the event shall kick-off with some side-splitting humour provided to you by three award award-winning comedians, Kate Martin, David Mills and Jodie Mitchell (see below for more details!). You can then join our brilliant speakers for an evening discussion on the importance of mentoring for LGBT+ professionals, sharing experiences and tips for positive mentoring relationships. Canapés and drinks will be served, so please stick around to continue the conversation.
Our Brilliant Speakers
Lucinda Wakefield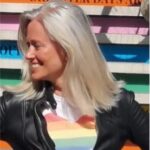 Lucinda Wakefield is Director, Head of Diversity, Equity and Inclusion for EMEA at BNY Mellon. Lucinda joined BNY Mellon in 2011, working first in Global Client Management and then with the EMEA CAO on Governance, regulatory projects, Employee Engagement and Conduct & Culture before taking on her current role. Passionate about the talent pipeline, Lucinda Co-Chaired BNY Mellon's Women's Initiative Network in EMEA from 2015-2018. Recognising the benefits of mentoring, Lucinda led BNY Mellon's participation in the UK 30% Club Cross Company Mentoring Programme since its inception in 2013 and collaborated with BNY Mellon's LGBTQ+ network, to launch an EMEA Reverse Mentoring Programme in 2017. Lucinda was recognised as one of the FT's Champions of Women in Business 2018, and a Top 10 Future Leader Role Model. Lucinda is a member of BNY Mellon's EMEA Operating Council, a member of the Financial Services Skills Commission Advisory Group and sits on HM Treasury's Women In Finance Charter Board.
Sarah Rench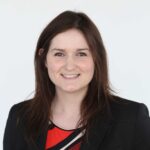 Sarah Rench is the Global Data, AI and Industry Solutions Director at Avanade and has experience building various data systems across the full data lifecycle and specializes in; Data quality systems using machine learning for UK, European and Global regulations, Data governance and Risk management frameworks, MLOps, DevOps, Cloud Migration (using Microsoft and Databricks technologies) & Data and AI Security. She's also the Avanade LGBT+ Executive Sponsor and has run and spoken at various LGBTQ+ & Diversity, Equity and Inclusion events globally, including recently at an Inclusion and Diversity Rally at UK Parliament. She's one of the award-winning Data Leaders & LGBTQ+ Leaders in the UK and represented the UK speaking at an AI conference for the Department of Trade in South Korea. Recently she was awarded the Top 100 Yahoo Finance Outstanding LGBTQ+ Role Model Exec List and has been one of the UK Top 100 Most Influential Women in Tech list from 2019 onwards
Ed Johnson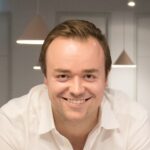 Ed Johnson is the CEO and Co-Founder of PushFar, a globally-leading platform helping to make mentoring more accessible and effective for individuals and organisations. With a background in digital marketing and online business growth, Ed now works closely with HR directors and Learning & Development Managers in organisations across a wide range of industries and sectors, including financial services, helping to unlock mentoring and employee potential. Ed set up PushFar in 2019, and has since worked with hundreds of organisations setting up mentorship platforms to support career progression and employee engagement, as well as having more than 75,000 professionals using PushFar's own free mentoring platform. In 2022, Ed was included in the Forbes 30 under 30 list for Social Impact, for his work in mentoring.
Our Brilliant Comedians
Kate Martin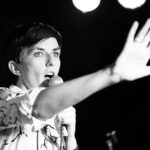 Kate has quickly established herself as one of the most exciting new comedians on the circuit.
Her unique background in mental health combined with frequent cases of mistaken identity have given her a fresh take on the world, fuelling her high energy storytelling, whip-smart punchlines and razor-sharp observations of life's quirks through queer eyes.
Kate regularly performs at many of the UK's best comedy venues up and down the country, including but not limited to Just the Tonic, Up the Creek Comedy Club, Backyard Comedy Club, Hot Water Comedy Club, The Frog and Bucket, Camden Comedy Club, Manford's Comedy Clubs and more.
David Mills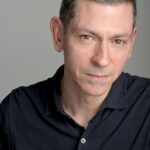 David is a London-based American actor, comedian and cabaret performer who won the Hackney Empire's New Act of the Year competition in 2011. He has performed at venues all over London, the UK and in the US. He's opened for Ed Byrne, Margaret Cho and Scott Capurro and performed his solo shows at venues such as Soho Theatre, Leicester Square Theatre, Oval Theatre, Crazy Coqs and the St James Theatre to name just a few. He's taken six shows to the Edinburgh Fringe Festival. He appears with Meryl Streep in the 2016 film Florence Foster Jenkins as Augustus Corbin and with Benedict Cumberbatch in Patrick Melrose (Showtime, US), as well as having various other stage and screen credits."David Mills is a class act. His jokes are beautifully crafted, sparkling little missiles loaded with wit." SCOTSMAN
Jodie Mitchell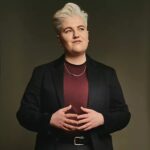 Jodie is a stand-up comedian, writer, podcaster and Drag King. They co-founded the queer women and non-binary comedy night sensation 'The LOL Word' and write and perform as their macho, Glaswegian alter-ego John Travulva with Pecs Drag Kings, with whom they won an Off-Broadway Award in 2020. Jodie co-hosts cult hit podcasts 'Secret Dinosaur Cult' and 'The Drag King Cast', has been a Funny Women Awards finalist, and recently wrote on Sex Education Season 3.
Agenda
18:00-19:00 Comedy Show
19:00-20:00 Panel Discussion
20:00-onwards Networking Drinks and Canapés